In a previous blog, we reviewed the steps for creating an email template in Zoho CRM. In this article, we will take a look at how to attach files such as PDFs or Word documents to your email templates.
The ability to add attachments to Zoho email templates serve several useful purposes. If you frequently send emails with attached files, attaching the files to the template can save time by automatically including the file each time the template is used, eliminating the need for you to search for and attach the right file manually every time you need to send the email.
If marketing emails are sent out with product brochures or event invitations, adding these materials to the template will allow them to be sent out as part of a bulk email send so materials can be distributed to a large number of contacts easily, efficiently, and consistently.
Pre-building your email template with relevant attachments is easy to do and will save you time and effort in the long run.
To add an attachment to an existing email template:
Navigate to the Template Editor
First, choose the "Setup" icon from the main navigation bar.

Next, select the "Templates" option under the "Customization" header.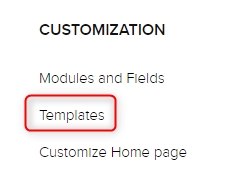 Select an Email Template and Add Attachments
First, click on the edit button (pencil icon) for the template you want to modify.
Once in the template editor, select the "Attachments" link in the top right area of the screen.  Doing so will launch your file selector program and allow you to choose files to attach to the email.
Note: There is an attachment file size limit of 3MB.

Unwanted attachments can be removed by clicking on the "Attachments" in the top bar and selecting the "X" next to the file you wish to remove.
Additional attachments may be added by selecting the "+" Add Attachment icon from the same menu.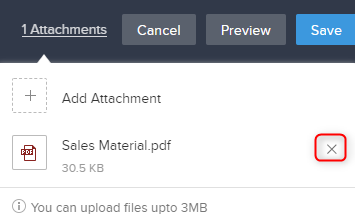 By following these steps, you can add attachments to your Zoho email templates to efficiently share these materials with your customers and prospects.
For more information on creating great email templates, see this article.
If you'd like further guidance about how to get the most out of your Zoho database or how to build email templates that create engaged customers, we can help. Give us a call at 800-880-1960 or email info@toplineresults.com for assistance!