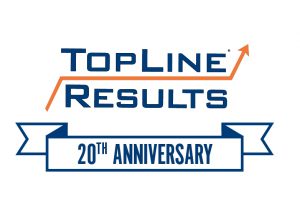 [Pewaukee, Wisconsin – May 13, 2019] – TopLine Results Corporation, a customer relationship management (CRM) consulting firm based in Pewaukee, Wisconsin, is celebrating its twentieth anniversary.  Fred Varin, President, founded TopLine Results in April 1999 with the goal of helping businesses achieve success through outstanding CRM systems.  "Our team's passion for excellent customer service, creative solutions and measurable results for our clients has been a driving force in our company reaching this important milestone," explained Varin.  "We have a standard of excellence in providing CRM, digital marketing, and process consulting services to our clients, and the TopLine Results team strives to make that a reality. We are passionate about building creative solutions that delight our customers."
TopLine Results Corporation will be hosting a 20th Anniversary Open House on Thursday, October 10th.  Join the TopLine Results team for complimentary refreshments, office tours, and networking.  To reserve your spot visit, https://www.eventbrite.com/e/20th-anniversary-open-house-topline-results-tickets-59793762754.
About TopLine Results Corporation – TopLine Results Corporation is a customer relationship management (CRM) cloud services and consulting firm specializing in Microsoft Dynamics 365, Salesforce, Act!, and Zoho CRM. Services include hosted and on-premise customized solutions, process consulting and implementation services, training and support. TopLine Results also focuses on CRM integration, digital marketing, and automation. TopLine Results is a developer of software applications such as dashboards and CRM integration plug-ins. Headquartered in Pewaukee, Wisconsin, with offices in Chicago and Appleton, the TopLine Results mission is to empower companies with customized CRM solutions that increase sales, marketing, customer service and overall business effectiveness.