As a Salesforce partner, this is one of the times of the year I most look forward to! While some may have visions of sugar plums dancing in their heads, I have visions of Salesforce Release Notes dancing on my screen! The beginning of December, while also the lead-up to the holiday season, is also the time of year when Salesforce usually releases the details about the many new features and updates, which will be incorporated into the Spring release.  Each year, Salesforce issues three major seasonal releases, each of which provides dozens of feature and improvement updates based on user feedback. As a Salesforce consultant, I take great joy in not only reviewing and testing all the new features myself, but also in having the opportunity to share them with my customers to ensure they are having the best Salesforce experience possible.
The release notes have just come out (only a few hours ago at the time of this writing!), and my first glance indicates there are a lot of features for Salesforce users to get excited about, especially Lightning users!  While I am still testing all of the features in my preview Salesforce org, I wanted to share two stand out features which are going to have a BIG impact for myself and my Salesforce customers.  I am more than enthusiastic about these two features, both of which add key productivity for anyone who uses Lightning Experience.
Pinned List Views
Having experience as a user in CRM systems other than Salesforce, I am well aware of the usefulness of having the ability to customize which list loads for individual users when visiting different objects.  Until now, in Salesforce, the list view that loaded when navigating to each object was the default "Recently Viewed" list view, which gave each user a list of the records with which they have most recently interacted.  While such a list is certainly useful at times, most users have more relevant custom lists created, which show them the records they need to be working with throughout the day. Not having the ability to designate a custom list as the default list view, which should be the first list to load, meant that users always needed to take an extra step to switch the list view to ensure that their go-to lists were front and center.  Moreover, many Salesforce users find auto-loading of the "Recently Viewed" list a confusing pain point.
Now, with Pinned Lists in Lightning Experience, users can individually designate any list they want as the default list which loads for each object.  While switching the list view is an action that takes maybe 5-10 seconds for most Lightning users, think of all the time and confusion which will be eliminated over the course of a month or even a year by ensuring that the system is always showing you the list you want to see! This is a huge win for Salesforce users!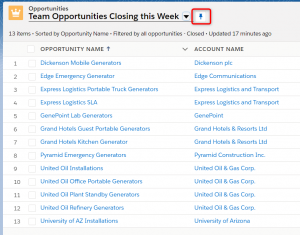 Print a Record Page
Having worked through various transitions in the Lightning Interface with teams who have been working in Salesforce Classic for many years, one pain point which always seemed to crop up was the lack of a "Printable View" on record pages in Lightning Experience. For various reasons, many users rely on having the ability to physically print out the details about their opportunities or contacts.  As a Lightning champion, it pained me to advise customers to switch into Classic Experience when they needed to print out record page details.  We are able to develop custom Visualforce pages for customers to work around this, but we would all prefer a no-code, out of the box alternative to having to spend the time and money on the custom development required.
Luckily, Salesforce listened, and now users do not need to switch out of Lightning Experience to print the details and related lists for record pages. The new Lightning "Printable View" button is available for most standard and custom objects. The printable view opens in your browser with the record details displayed as you indicate, and any related lists with data automatically display on the print out page.



The Spring '19 Release will be rolled out to all Salesforce customers during early February 2019.  For more personalized guidance about how you can best utilize the many great Salesforce features, or to find out if Lightning Experience is right for your organization, email us at info@toplineresults.com or give us a call at 1-800-880-1960. We would love to help you discover ways you can use Salesforce to make 2019 more profitable and productive!