Recently, our support team here at TopLine Results has observed a high number of support requests regarding a specific error concerning the Merge to Word functionality when using Act! and TopLine Designer. This error results from recent updates applied to Microsoft Office applications.
The error is:
System.Runtime.InteropeServices.COMException (0x80010001):  Call was rejected by callee. (Exception from HRESULT:0x80010001 (RPC_E_CALL_REJECTED))
at Microsoft.Office.Interop.Word.ApplicationClass.get_Documents()
at TopLine.Designer.MergeToWord.MergeToWord(ArraylistCSE, CustomTable PrimaryTable, String TemplateName, MergeTypes MergeType)
Specifically, this error stems from the add-in that Act! adds to Microsoft Office when Act! is installed.  This affects both the Merge to Word function inside of Act! as well as the Merge to Word function inside of TopLine Designer.   If you are seeing this error, below are steps on how to disable the add-in so you can use the Merge to Word functionality.
With Microsoft Word open, navigate to File-> Options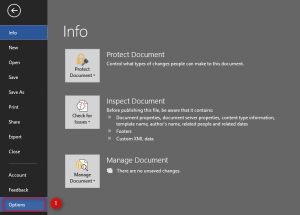 When the Options window opens, select the Add-ins option on the left side of the screen.
You will now see a list of add-ins available for Microsoft Word. At the bottom of the screen, select "COM Add-ins" from the drop-down menu and click on "Go…"
A new window will open.  When this window opens, look for any add-ins that contain the word "Act" and uncheck the box next to it.
Once you have unchecked all these boxes, click the "OK" button to save the changes.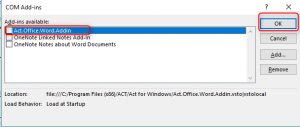 Close Microsoft Word and restart Act!
Attempt to Merge to Word again. The functionality should now work as expected.
If you have any issues, please feel free to reach out to us at support@toplineresults.com.
About the Author
Tom Duwe is a CRM Support Specialist for TopLine Results Corporation. He provides support for Act!, Microsoft Dynamics 365, Salesforce and TopLine addons.