If you run ads on Facebook, LinkedIn, or Google, you are most likely using UTM tracking. You probably get a weekly or monthly report from your advertising agency letting you know what ads were clicked on or leads generated from a particular ad. What if you could take it one step further and understand what leads converted to customers and revenue? You can now do this with ClickDimensions UTM tracking.
What does ClickDimensions UTM form tracking capture and record in Dynamics 365?
ClickDimensions will track the following UTM parameters. Note this list is taken directly from ClickDimensions.
Source (utm_source): Helps identify the source of referral traffic to inform you where your traffic came from.
Medium (utm_medium): Labels the marketing channel from which the lead originates.
Campaign (utm_campaign): Identifies a specific campaign or promotion and allows you to track the performance of a particular campaign.
Term (utm_term): Indicates referral keyword from a paid search campaign.
Content (utm_content): Applied to A/B testing to identify targeted content, ads, and links to drive traffic to the same URL from different audiences or experiences.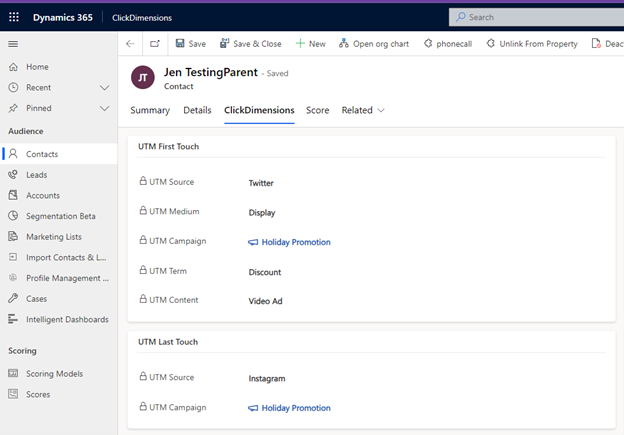 (UTM Tracking on a Contact in ClickDimensions and Dynamics 365)
How do we use UTM form tracking data for better reporting in Dynamics 365?
Once UTM tracking ties to the lead and contact, we can create views and dashboards to show those leads and contacts who interacted with specific ads by each UTM parameter and have won or lost opportunities. Additionally, you can see how many leads have been disqualified by UTM. Tracking lead conversion and revenue allows you to continue fine-tuning your ad strategy to increase leads and conversion.

(UTM Tracking Dashboards built-in Dynamics 365 with ClickDimensions, Lead, Opportunity, and Contact data)
Are there limitations on UTM form tracking with ClickDimensions in Dynamics 365?
UTM Form tracking is only available in the Unified Interface for Dynamics 365 and it is only compatible with ClickDimensions web forms that you embed on your website/landing pages via a Widget. Tracking is unavailable in the classic interface or for forms embedded via iframe or form capture.
For a complete listing of limitations, please visit ClickDimensions Help Center.
What should I do next if I want to implement UTM form tracking?
Contact the TopLine Results digital marketing team to discuss your version of ClickDimensions, upgrade paths, and configuration. Contact us today at at 800-880-1960.