Today, technology plays a fundamental role in a business's marketing strategy. Whether it's social media posts, ads on TV, or promotions over email. As soon as someone is exposed to your product or service the next step is navigating to your website. Your organization's website is a prospects first impression of your brand, message, and values. The way your website is positioned can make or break your organization's credibility with consumers.  
If a user isn't exposed to your brand prior to their google search, their search will most likely consist of specific keywords that could be applicable to your business as well as your competitors. SEO increases your visibility or how high you rank in search results. If it isn't already, you should consider SEO as part of your digital marketing strategy. 
What is SEO? 
SEO stands for Search Engine Optimization. According to Digital Marketing Institute "SEO is the process of getting traffic from free, organic, editorial, or natural search results in search engines. It aims to improve your website's position in search results pages." There are three components to consider when thinking about SEO: 
Technical Optimization:

 Think of this as the back end of your website. This would relate to how your website is built - how fast pages/images load, avoiding broken links, and if it has crawling capabilities. If your website is slow, it will get pushed down in SEO rankings. To avoid a poor technical optimization ranking utilize a website audit tool to gain insight into the analytical framework of your site.

 
On Page Optimization:

 This is analyzing the content of your website and optimizing the aspects you have control over. Some examples of page optimization would be individual page content, title tags, page loading speed, internal linking, and page experience.

 
Off Page Optimization:

 This is analyzing the reputation of your website from the outside. The quantity and quality of backlinks to your website is a major part of off page optimization. Backlinks are built on a trusted source. A backlink is when someone links content from your website within their content as reference. This ultimately drive additional traffic to your website through their link.

 
Organic SEO VS Paid SEO 
Both organic and paid SEO function off keywords. The keywords you have identified as important must be associated with a land page. The biggest difference in organic VS paid SEO is time and position. Paid SEO allows for a rapid result in your search positioning while organic SEO can take months or years to build. Regarding positioning paid SEO appears at the top of search results marked as "Ad" (see image below). Whereas organic SEO will fall below. You may think paying for SEO is the right answer however "roughly 20% to 30% of searchers click on paid results, and 70% to 80% of searchers click on SEO results. (DMI,2020)." Paid SEO may deliver faster results, but Organic SEO can provide that same quality it just takes a longer time to get there.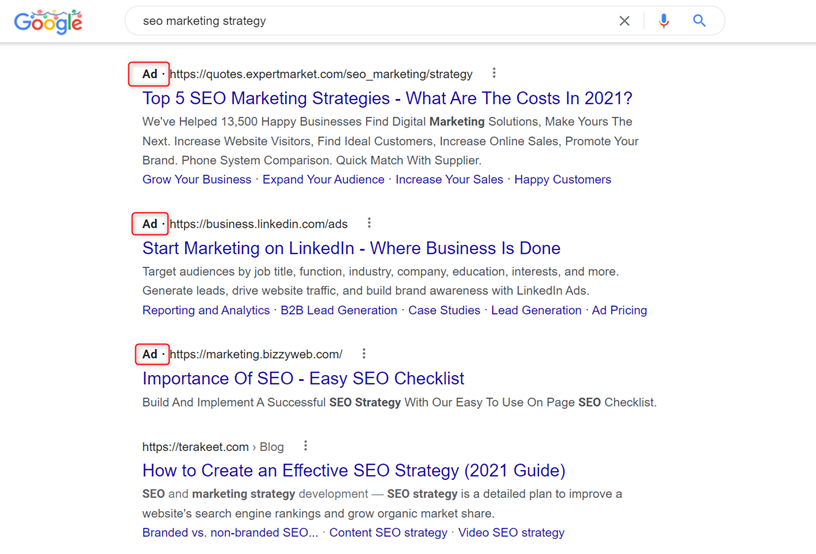 Why is SEO Important? 
The idea behind SEO is the higher your website is listed in the search options the more exposure it will get. The higher your organization falls in your consumers keyword search the higher amount of credibility it builds with them. Investing time and money into SEO will increase not only the quantity but the quality of website traffic to your website. This provides a greater opportunity for you to convert potential prospects into consumers and allow for your organization to grow through the use of your website. 
How to invest in SEO? 
First, start with a solid website foundation. This includes having an appealing website design, creating content that incorporates your keywords that you have identified best correlate to your brand. That content must be distributed throughout your website pages. You will want to put your targeted keywords in the title tags for each page of content. Once you have a credible website you then can build out your backlinks. As part of you digital marketing strategy you should tap into website audit tools to make sure functionality of the backend of your website is just as strong as the front end. All of these are important but overall you want to focus on creating a positive user experience through the use of your website. 
If you are looking to reevaluate your website strategy and are not sure where to start, contact us here at TopLine! We would be happy to partner with you to utilize our digital marketing tools and expertise to map out a strong SEO and website strategy for your organization. 
References: 
DMI, Simon @. "What Is Seo and How Does It Work?: Blog: Online Digital Marketing Courses." Digital Marketing Institute, Digital Marketing Institute, 14 Dec. 2020, https://digitalmarketinginstitute.com/blog/what-is-seo  
Kustov, Dmitrii. "Council Post: The Importance of Technical Optimization for SEO." Forbes, Forbes Magazine, 1 May 2020, https://www.forbes.com/sites/forbesagencycouncil/2020/05/01/the-importance-of-technical-optimization-for-seo/?sh=1fb23250d3eb