Microsoft Dynamics is quickly becoming the integrated system that many businesses have been wanting for years. If you use Microsoft Dynamics for your CRM and Microsoft Teams for instant messaging, then here's a new feature that will really help your productivity.
You can now chat using Teams from directly inside of your Dynamics web browser session.
Find out more about how to enable this feature by following the steps on the following page: Enable or disable Teams chat in Dynamics 365 | Microsoft Docs
After the feature has been enabled, you'll find a new icon in the upper right corner of Dynamics.  It looks like two conversation bubbles.

When you click on the icon, it will open a new window on the right side of your web browser that allows you to see a list of your messaging contacts.
When you select one of those contacts, you will be able to send and receive messages directly inside of Dynamics.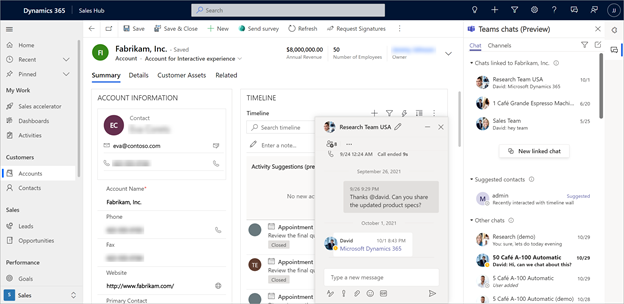 In addition to being able to simply chat with someone, you can associate a chat to a specific record in Dynamics so that you can easily reference or resume that chat any time you visit that record.  Keep in mind that the chat is not actually saved in Dynamics itself.  For example, if you are collaborating with multiple people on one specific opportunity, you can set up a linked chat between all participants and the opportunity.  Every time you open that opportunity, you can resume the chat with those individuals.  To link a chat, click on the ellipse button on a chat history and click on the Start a linked chat with [Person].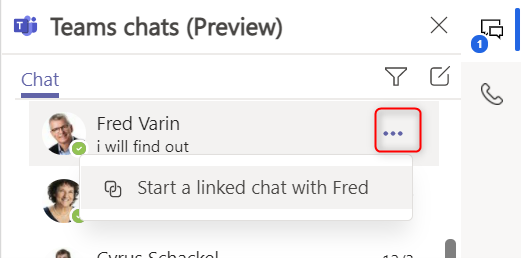 Or click on the "New linked chat" button.
Microsoft Teams and Dynamics are a great combination.  If you would like to learn more about how to use these great tools together, contact us here or call us at (800)-880-1960.