In our previous blog (https://www.toplineresults.com/2020/07/adding-attachments-to-zoho-email-templates/) in this series, we examined sharing Zoho CRM email templates with other users. This week, we are going to take a look at how Zoho allows users to add their email signature to standard emails. We will also look at templates that will dynamically update for whichever user is sending the email.
Email signatures are an important part of email communications. They let users customize their contact information in a personalized format that doesn't need to be manually entered every time an email is sent. Zoho CRM allows users to configure their email signature. Once set-up this will automatically be available when sending an email.

What if users send emails with a template? Email templates save a lot of time, and they are often sent from a general company email address. Sometimes it is necessary to send out a bulk email that has an individual user's contact information on it. Having to create a template for each user with their personalized signature block would be time consuming and would add a lot of upkeep. Zoho combats this problem by allowing users to add an email signature merge tag into the template. This will automatically add the email signature of the user sending out the email. With this system, one email template can be deployed by all users. Each person's customized signature will be sent out with every email they send.
In this blog, we will examine:
Adding your email signature
Sending a direct email with a signature
Sending a bulk email with a signature
Creating an email signature:
Zoho CRM also allows user to create personalized email signatures. To set up a personal email signature:
Go to the "Setup" section of Zoho by clicking on the setup icon in the right-hand section of the ribbon.

Next, select the "Personal Settings" option under the "General" header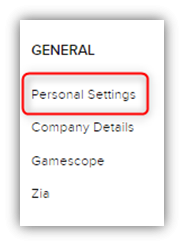 Select the "Edit" Icon next to the "Signature" section to edit your email signature

The signature editor allows you to create a customized email signature. Use the text tools available to create an email signature or paste in your standard email signature from your standard email program into the editor.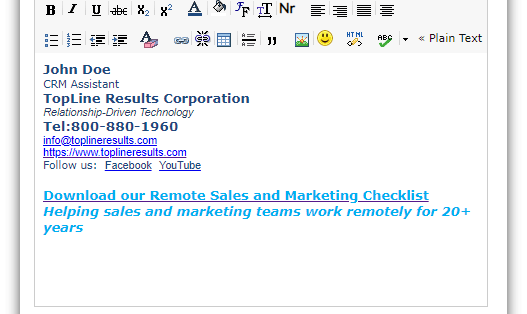 Click the save button to save your new email signature.
Adding an Email Signature to a Standard Email
If you have configured your email signature in Zoho, it will automatically be added to the body of an email when you send an email from Zoho CRM.
From a contact or lead record, click on the "Email" button at the top of the record. The email popup will allow you to compose the email. You will notice that your newly configured signature is automatically included at the bottom of the email.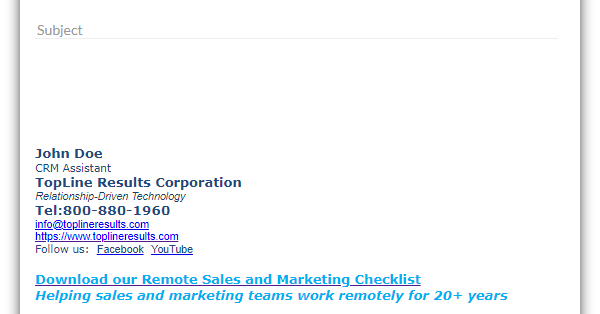 Sending an Email Template with a Signature
When using a template for a bulk email, your signature will not automatically be added to the email unless a "User Signature" merge field is added to the template. To add the "User Signature" merge field to a template, add a text box to your template where you wish to have the signature and type the "#" character to bring up the Merge Tag menu. Change the dropdown to "Users" and select the "User Signature" option to insert the sender's email signature into the template.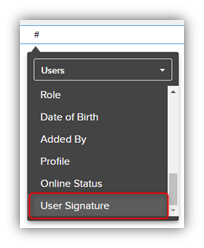 Now, when you compose a new email in the Zoho system and select that template, your email signature will automatically be added to the template in place of that merge field.
Because the signature is inserted by a merge field, it will be the signature of the user who is sending the email. By doing this, all users who have access to the template can use the template. The template will display the correct signature for each sender.
By following these steps, you will be able to customize your email signature, so that you can send out both individual and bulk emails with your signature.
For more information on creating great email templates, see this article:
https://www.toplineresults.com/2015/09/tips-for-email-marketing/
For more information on sending mass emails in the Zoho CRM system, see this article.
For more help with email marketing and customized CRM templates, reach out to TopLine Results at 800-880-1960 or info@toplineresults.com.