HubSpot's Marketing Hub is an impressive platform with a variety of features to help your marketing team bring in new leads and manage relationships. To make the most of this tool, it's important to have your target audiences well-defined. I previously explained segmenting audiences using lists in a different article, but today I wanted to show you the simple process of creating these lists, so that you can communicate with relevant and personalized content.
To create a list:
Select Contacts, and then lists:

Select "Create list"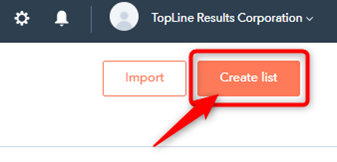 Choose from either contacts or companies. This example outlines a contact list based on the Lifecycle stage property.
The Lifecycle stage is an important property in HubSpot that indicates where a lead or contact is in the marketing and sales process and will likely feature a lot in your segmentation strategy. In this example, I need to create a list of contacts with the Lifecycle stage of sales qualified lead. The list will be used to enter contacts into a workflow automation designed to support the sales team by ensuring that contacts are receiving regular email touches.
Any contact should be entered into the automation when they progress into the sales qualified stage, so I will select "Active" as the list type.

The key step happens next. I will apply filters to identify which contacts will be added to the list. The Lifecycle stage is a contact property, so I will choose Contact properties and search for the "Lifecyle stage" property.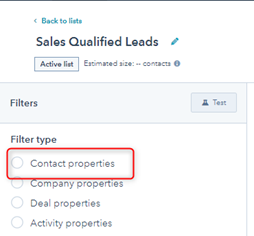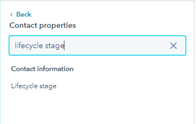 Next, I will select the appropriate stage.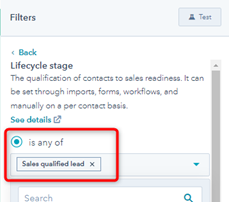 After saving the list, I will double check the filters and the contacts in the list to be certain the desired contacts are being added to the list

After confirming the list looks correct, it is ready for use in workflow automations, email sends, and any other context where this segment is relevant.
According to recent statistics, segmenting email campaigns can result in a revenue increase of up to 760%.
Segmented lists in HubSpot are a simple and effective method of organizing your contacts based on their relationship with your business and allows you to engage with them in a manner that will increase lead conversion and customer loyalty.
Are you looking to get started with a new segmentation strategy? Or maybe you have been employing segmentation for a while and are looking for a refresh or a way to assess its effectiveness. Either way, we would love to work with you. Our marketing team has a thorough understanding of how to leverage data to design targeted marketing campaigns and automations that create positive, measurable results. You can reach us at info@toplineresults.com  or 800-880-1960.