It's no secret that some things which are really good on their own often become great when paired together. Consider peanut butter and jelly, peanut butter and chocolate, peanut butter and …, well you get the picture! Certain pairings just have the ability to transform two great things into something exceptional.
As a marketing consultant, one of my favorite pairings is Google Analytics and Power BI. Both are free business tools that are valuable on their own, and they can create quite the impact when paired.
Power BI is Microsoft's interactive data visualization and analytics tool for business intelligence (BI). You can use it to pull data from almost any source to create interactive and understandable reports and dashboards that highlight the metrics you need to guide decision-making and drive results. The visualization abilities of Power BI are fantastic at creating meaning out of rows and rows of Excel spreadsheets.
Google Analytics is Google's free web analytics service that tracks traffic on your website and how your site visitors are using your website. It's easy to set up, and it's far and away the leading web analytics tools. If your organization isn't using Google Analytics, you are missing out on key insights that your competition has most likely been using to their advantage for some time.
While most business websites already have Google Analytics tracking setup, we often find that many businesses don't fully leverage the insights Google Analytics tracking makes possible. And that is understandable – Google Analytics is great, but it's a lot to comprehend. It can be overwhelming and time consuming to sift through all the data and reports and know what it all means and decipher what is important. What is the difference between a bounce and an exit? Does the bounce rate even matter?
Even if your marketing team has a clear definition of what Google Analytics metrics are needed to drive sales and marketing decisions, it can often be challenging to fully communicate what metrics are being used and why they are valuable to other stakeholders throughout an organization. This is where Power BI comes in. Connecting Power BI to Google Analytics to highlight and contextualize key measurements is a game-changer when it comes to understanding how your website is (or isn't) being used by your customers and prospects.
Not convinced yet? I've summarized my top 4 reasons for pairing Google Analytics and Power BI:
Since both tools are free, there is a very low financial barrier to getting started. No additional software bills!
Both tools are relatively quick and easy to set up. Google Analytics tracking is a simple piece of code that experienced web developers know how to place on any site. Connecting Power BI to Google Analytics data is simple; there are no complex integrations or mappings to configure. It takes us mere minutes to connect Power BI to your Google Analytics data. With a painless connection between the two, the time barrier to getting started is low.
As I previously observed, Google Analytics can be overly time-consuming for even experienced marketers to make sense of, let alone an over-extended executive! Using Power BI allows you to pick out only the metrics that you really care about and present them in a focused and contextualized visual. Consider the below visuals. Which one quickly tells an actionable story?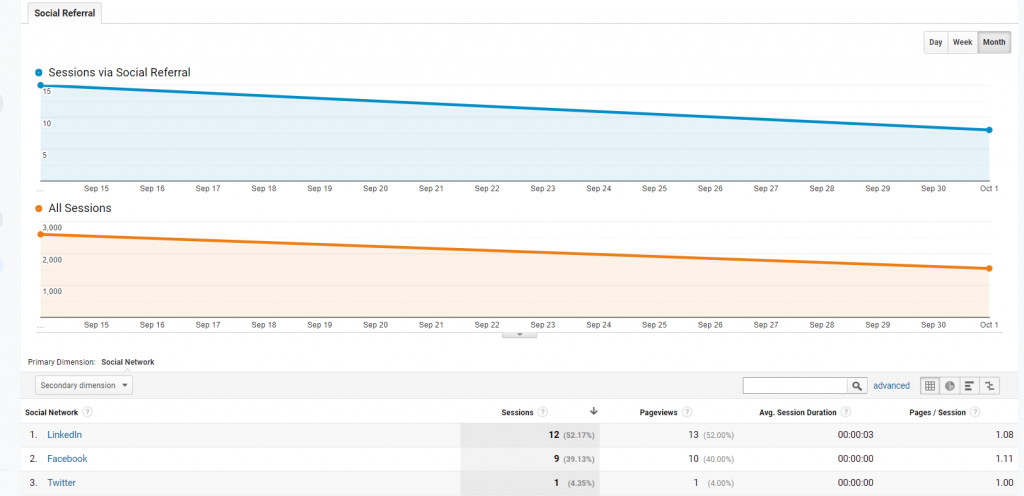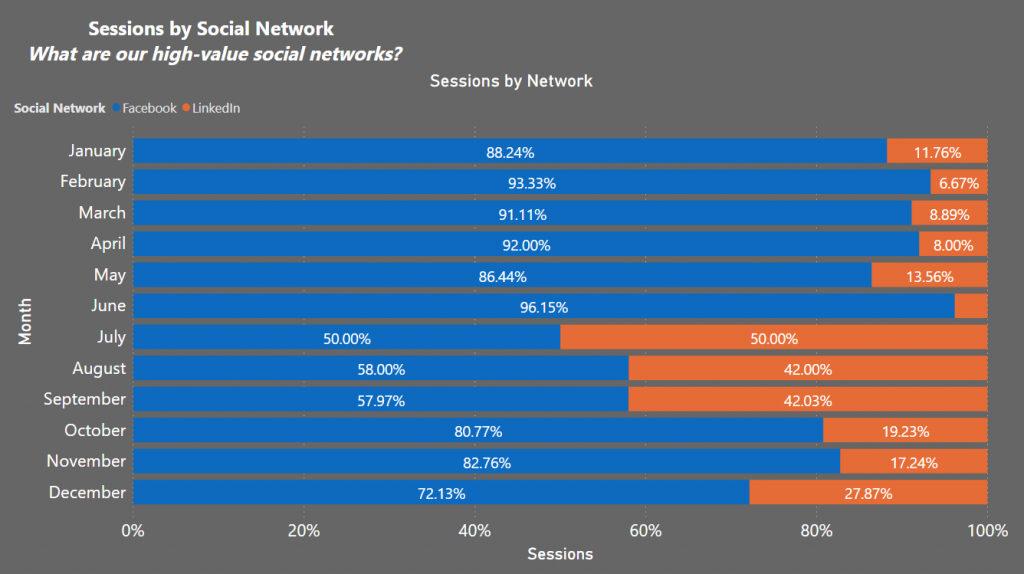 Since Power BI is free, you can make your Google Analytics dashboard available to everyone in your organization, and you can customize dashboards for different roles. It makes sharing information easy and can eliminate individual, time-consuming requests for website metrics. Additionally, CMO's love that it eliminates the need to give everyone direct access to your organization's Google Analytics account.
Have I mentioned that both of these tools are free? If you'd like more information about getting started with a Power BI dashboard that transforms your website data into an understandable and actionable story, contact us today!