Do you have to schedule several appointments daily? Do your appointments sometimes involve internal resources? Are you constantly sending multiple emails with date and time options for meetings to your contacts? Are you looking to reduce the amount of time you spend scheduling appointments? If any of these scenarios sound familiar to you, you may want to consider using Calendly!  A FREE scheduling tool.
By including a simple link in your Outlook signature or email communication, your contact has immediate access to see your availability.  This link allows your contact to easily select a meeting time that works best for both of you.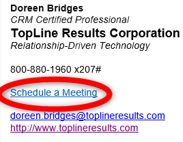 But that's not all!  You can also set offer duration options and web conferencing details in the meeting. *Please note – be sure to block your lunch hour on your calendar so it's not offered as a meeting option!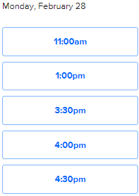 While the free version includes a lot of features, there are paid plans available if you have more complex scheduling needs. For example, if more than one internal resource is needed in a meeting, it will require using a paid plan. This function is referred to as a Collective Event in Calendly and let me assure you it is well worth the cost.  Being able to check the availability for multiple calendars is always helpful when scheduling meetings! Here are the robust Event Types you now have access to creating if you have a paid plan.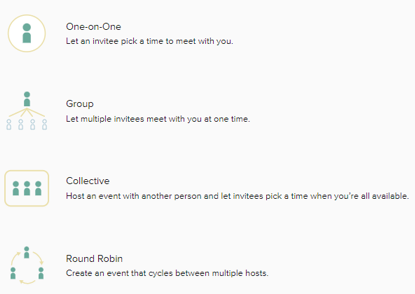 While there are many options out there for scheduling apps, Calendly is easy to use, cost-effective, and offers a robust feature set! I highly recommend you give it a try – here's a link to get started:
https://calendly.grsm.io/1i9w7ycc3vc9
At TopLine Results, we prioritize productivity and effiency.  In this day and age, there's so many tools that can help you work as efficiently as possible that sometimes it's hard to figure out which tool is best for your needs.  If you'd like us to help you navigate this space, contact us by calling 1-800-880-1960 or email info@toplineresults.com.