Microsoft Dynamics 365
TopLine Cloud Solutions
Microsoft Dynamics 365, delivers CRM functionality as a natural extension of Microsoft Outlook. Manage customer e-mail, appointments, tasks and contacts from a single business application - as a web-based solution or configured as an offline client. With Apps for sales and customer service, Microsoft Dynamics 365 provides all the components needed for a rich CRM experience.
The Choice is Yours – Cloud or on-premise? You decide. The TopLine Results Cloud solution offers the security of SOC 2 certification and a team of Microsoft Dynamics 365 experts to guide you.
Personalized Service – When you work with TopLine Results, your project manager and technical consultant become an extension of your team and your personal Microsoft CRM experts.
Budget friendly solutions – We offer affordable Microsoft Dynamics 365 cloud packages that bundle software, hosting, training and support in one quarterly user fee.
Flexibility – TopLine Results is certified in Act!, Microsoft Dynamics 365 and Salesforce. We help our clients select the best fit for their business.
Systems Integration – We have the experience and know how to help you integrate Microsoft Dynamics 365 with data systems such as SharePoint, ERP and email marketing platforms like Constant Contact and Click Dimensions.
Custom CRM – We develop add-ons and vertical solutions which take Microsoft Dynamics 365 to a whole new level.
TopLine Microsoft Dynamics 365 Cloud Solutions
Microsoft Dynamics 365
Professional Hosting: $95
Partner cloud, 5-user minimum
Dynamics 365 subscription for Sales or Service Apps
No maximum user limit
2 GB of data storage per user
Service pack updates
Version upgrade support
Rolling 7-day database archive
Hourly incremental backups
Phone, email and online support
Support log report
New user management
Security roles assignment
Outlook integration setup
Offline access
TopLine CRM video series training
TopLine Getting Started guide
Monthly instructor-led training
Quarterly CRM assessments
Additional services available through TopLine Results
Microsoft Dynamics 365
Enterprise Hosting: $125
Partner cloud, 10-user minimum
Enterprise hosting provides a comprehensive turnkey CRM solution which helps ensure a successful implementation for your organization. With all the benefits of our Professional plan, Enterprise also includes the following:
Needs analysis
Project management
Workflow setup
Lead configuration
Opportunity configuration
Account/contact configuration
Process bar configuration
Custom fields
Initial CSV data import
Custom system views
Custom dashboards
Initial custom training
Professional Plan services included
Microsoft Dynamics 365
Enterprise Premium Hosting: $145
Partner cloud, 10-user minimum
Enterprise Premium hosting provides a feature-rich CRM solution with custom reports and advanced marketing functions. With all the benefits of our Enterprise and Professional plan, Enterprise Premium also includes the following:
Initial marketing campaign setup
Email template coaching
3rd party email provider integration and support
Marketing list synchronization with 3rd party provider
Marketing dashboards
Marketing module coaching
Unlimited workflows
Unlimited advanced queries
Automated email reports
Data import support
Data automation
Professional and Enterprise Plan services included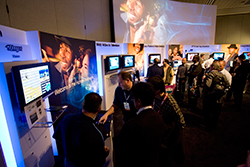 Since implementing partner-hosted CRM with TopLine Results Corporation, Exhibit Systems has seen a 20% increase in closed leads.
Microsoft Dynamics 365 Features & Benefits
Familiarity - Microsoft Dynamics 365 provides you with a powerful set of CRM capabilities directly within the familiar Microsoft Outlook client and also integrates with Microsoft products you use everyday such as Microsoft Word and Excel.
Flexibility - With point-and-click customization, role-based forms, declarative design, and powerful developer tools, Microsoft Dynamics 365 can be easily customized to support your evolving needs.
Solutions - Microsoft Dynamics 365 incorporates many powerful capabilities from Microsoft Office, Microsoft SharePoint and other leading solutions so you can maximize your investment and increase your productivity.
Microsoft Dynamics 365 provides features to increase your organization's effectiveness and productivity, including:
Introduction of the new sales collaboration panel for targeted selling
New email editor with HTML template capability
Debut of new product families for improved cross-selling opportunities
Marketing enhancements including improved campaign ROI tracking
Sales hierarchical views for real-time forecasting
Microsoft Dynamics 365 for tablet enhancements
---