TopLine Results recently completed the process of becoming a Zoho Authorized Reseller.  This means we can now support and sell Zoho, which offers a wide-ranging portfolio of business automation products, including Zoho CRM. Zoho is a unique platform that allows you to plug and play a variety of Zoho apps like Zoho CRM, Zoho Campaigns, SalesIQ, SalesInbox.  This allows businesses to start out with basic contact management and slowly add features, such as sending out mass emails and completing email marketing campaigns.
Zoho CRM integrates with Zoho Campaigns for marketing free of charge.  You can continue to use MailChimp or Constant Contact with Zoho CRM, but there will be an integration fee.  Besides free integration, there are features available in Zoho Campaigns that are not available from other email marketing providers.  Below are our top feature picks for Zoho Campaigns.
Zoho Campaigns Marketing Calendar
Zoho Campaigns allows you to sync marketing activities and email campaigns to your Zoho CRM marketing calendar.  You can set reminders for holidays, events, and key deadlines, such as booking tradeshow spaces.  This allows a monthly view of all marketing activities.  You can also select to sync individual activities to your email calendar as well.  This makes it easier to manage all marketing activities from one single view.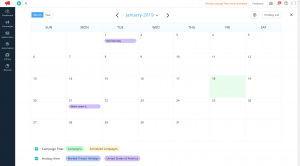 Zoho Campaigns Workflow
Zoho Campaigns allows you to create activity-based workflows to automate different updates to the database or list management.  This is a step-up from other email marketing programs that allow you to only do workflows based on dates or lists.  You can create a workflow to update fields in your database based on how prospects complete forms.

Zoho Social Posts
Create and manage socials posts directly from Zoho Campaigns for Facebook, LinkedIn and Twitter.  You can post directly, schedule posts and view engagement.  Zoho can replace other software like HootSuite.

The best part of Zoho Campaigns is you can start with a free account and see if it is the right fit for you.  If you would like a demonstration or assistance with setting up a trial, contact us at 800-880-1960 or info@toplineresults.com.